Christmas….why you SHOULDN'T stop your job hunting !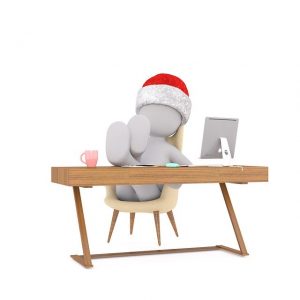 Christmas is a wonderfully busy time, both at work and at home and understandably people often take the opportunity to wind down between Christmas and the New Year. With many Business' closing for a few days, it is a time for relaxation and reflection….and perfect for a spot of job hunting!
Christmas and New Year is a great time for business owners and hiring managers to really think about what their key objectives are for the New Year, so contrary to perceptions, hiring continues apace,  The New Year is often the start of a Business' financial year, which means new budgets, new strategy & a revised focus on the year ahead. There is always a major peak in job search activity each January, as whilst many hiring managers and key personnel are on holiday in the lead up to Christmas, this isn't the case in January, with most people returning to work and focussed on 'snapping up' key talent in order to deliver their key Business objectives for the year ahead.
We understand that for some taking a well earned break is just what is needed, however this is a great time to assess your focus and get ahead of the market.
Use this time to update your CV – take a look at our guide!
Connect with us – we are all on LinkedIn, follow us for updates
Update your LinkedIn profile – it is often the first place hiring mangers look
Take time on your social media profiles – 70% of employers check social media such as Facebook and Twitter – Google yourself and see what comes up
Search our website – you may see something that interests you, upload you CV and we can be in contact to discuss your requirements
But please remember, that often the best jobs are never advertised, with typically only around 30% of all live projects making it online.
Please speak to one of our Consultants for an in depth & confidential discussion about how we will help. All our Consultants come directly from the Sectors that we recruit into and uniquely, we spend significant time at both our existing & prospective Client sites, getting a real understanding & appreciation of their Business, their Culture & the types of career opportunity that new employees can expect in reward for their commitment, hard work & positive performance.
Get a head start on your search, it could be the perfect start to your new year.