Blayze Unguem Reveals New Responsive Website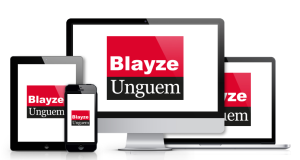 With the continued expansion of the Blayze Unguem business across the Print, Packaging, Manufacturing and Marketing & Media Industry sectors, we have recently been re-appraising our communication strategy & methodology to ensure we deliver exceptionally high levels of service and capability in both sourcing a high calibre of individuals and roles within the market place.
In order to maximise the effectiveness & relevance of both our communication strategy and our ability to deliver on behalf of Clients & Candidates, we have recently launched our new responsive website.
We focussed on creating a content rich, interactive & engaging hub for our users, allowing you to keep up to date with the latest industry news, improve your personal branding, and gain access to tips & advice that will either help you on career journey or enhance your recruitment processes.
Blayze Unguem's new responsive website also delivers social media integration, providing you with direct links to our LinkedIn, Twitter, Facebook and Google+ pages. Our enhanced internal Marketing function will drive an increased level of both Industry & Professionally relevant communication with you on a more immediate and regular basis.
With a contemporary look and feel, as well as simple functionality, the new site makes finding your perfect career, accessing employer services and keeping up to date with the latest industry news easier than it has ever been before.
For further information on how Blayze Unguem's can impact your recruitment needs or career search, please contact us on 0345 11 22 828, at info@blayze-unguem.com or drop us a message via our contact form and we will get back to you.